virtual INTEGRAL Well-being Program
5-week Virtual Live sessions on Zoom
COMING SOON
Creating future-proof leaders to navigate business uncertainties and volatility
Do you notice how your productivity depends on your internal state?
Do you want to cultivate your inner well-being so you can better empower those you serve?
In today's fast-paced global business environment, we are challenged by uncertainty and stress that require a new level of resilience.  Our program is to help you cultivate integral well-being, so you can sustain high performance facing day in and day out pressures.
Using our Integral Leadership Well-being model, we strengthen the four core components of internal well-being for leaders.
We ground our approach in neuroscience research, performance psychology, the cutting-edge work of Wendy Palmer's Leadership Embodiment and Dr. Brené Brown's courage building Dare to Lead™ program.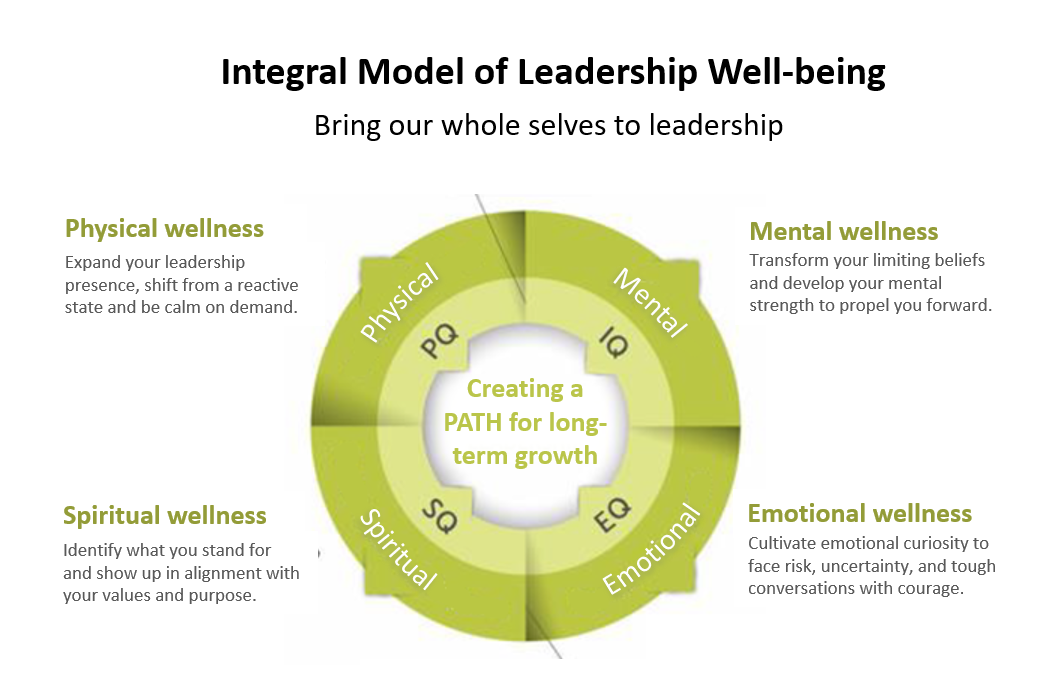 Any business owner, entrepreneur, leader or HR professional aspiring to manage themselves more skillfully, and expand their capacity to pursue professional and personal goals.
We offer a highly experiential learning experience supplemented with toolkits of practices to maintain resilience in face of constant stressors in your professional and personal lives. Learn how to:
Face risk, uncertainty, and tough conversations with increased confidence

Strengthen resilience and capacity to make resourceful decisions

Operationalize personal values to be the leader you want to be

Deepen awareness of your emotions and rebound more effectively from failure, disappointment, and setbacks
JANUARY 2021 series:
Weekly @ 7.00pm-9:00pm Hong Kong time
Session 1: January 7, 2021
Session 2: January 14, 2021
Session 3: January 21, 2021
Session 4: January 28, 2021
Session 5: February 4, 2021
Session 1: Mental Wellness
Build mental strength and healthy thoughts to actualize leadership intentions and visions
Session 2: Physical Wellness
Cultivate resilience in your body to recover from stress, and to promote mental and emotional balance
Session 3: Emotional Wellness
Build emotional capacity to rebound more effectively from setbacks
Session 4: Spiritual Wellness
Tap into your deep sense of purpose and core values to empower those you lead for sustainable performance
Session 5: The Path Forward
Craft a vision map to identify specific steps to integrate your vison and learnings
Angie Wong is the founder of Wong Global Leadership and leverages more than 20 years of experience in corporate leadership as the former president of First Interstate Bank in the US.
Angie has coached and directed leadership programs internationally serving senior leaders in the US, Europe and throughout Asia across a broad base of industries.
She is a Certified International Coaching Federation (ICF PCC) coach and a certified Leadership Embodiment Practitioner. She is also a certified Brené Brown Dare to Lead facilitator.