Dare to Lead™ 2-Day Leadership Program
Dare Greatly. Lead Courageously.
COMING SOON
Discover the power of leading with courage and authenticity in this 2-day experiential workshop in a supportive group setting, based on the empirical research of Dr. Brené Brown and her New York Times bestselling book "Dare to Lead." This workshop will demonstrate how courageous leadership can help you have difficult conversations, hold yourselves and others accountable, take smart risks that lead to innovation, reset after setbacks, and give and receive feedback – even when it is tough.
About the Facilitator
Angie Wong is a certified Dare to Lead™ facilitator and is uniquely positioned to deliver the ground-breaking work of Brené Brown. Supported by her years of coaching experience in Asia and her compassionate but practical style, she will help you become a daring and courageous Leader by building the four skill sets of courageous leadership that are tactical, actionable, and practical.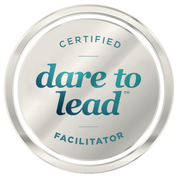 What's in it for you?
Become a daring and courageous Leader by building the four skill sets of courageous leadership that are tactical, actionable, and practical:
Rumbling with Vulnerability: Facing risk, uncertainty, and emotional exposure with courage and clarity.
Living into our Values: Identifying, operationalizing and practicing the beliefs that we hold most important.
Braving Trust: Creating or deepening connections in relationships and teams based on the seven elements of trust.
Learning to Rise: Learning and growing from the failures, setbacks, and disappointments that are inevitable when we are brave with our lives.
Upon successful completion of the program, participants will receive a certificate recognizing their mastery of the 4 courageous skill sets.
As participants, you can expect to achieve the following learning objectives:
Understand what makes a courageous leader and how vulnerability can make you a more effective leader

Become a leader who takes responsibility to find the potential in people and taking courage to develop that potential

Learn to tackle tough conversations: move to straight talk and taking action instead of avoidance so others feel safe, seen, heard, and respected

Practice empathetic leadership: move from perfectionism and fear of failure to excellence, empathy, inclusivity, and self-compassion

Explore the most common behaviors and cultural issues that hinder impactful leadership across the world
Pre-work
You will also be receiving the pre-program work to be completed before you come to the workshop to enhance your learning experience.
Who Should Attend?
High achieving leaders with the desire to transform how they live and lead

Leaders who want to lead with purpose and inspire those who they work with
Register your interest!
READY TO LEAD MORE AUTHENTICALLY?
Sign up for our newsletter below for more insights on transformative leadership